Hand Embroidered Pencil Case
Cream organic cotton with deep grey satin inner.
This beautifully hand-embroidered pencil case is made in Cape Town in collaboration with our favourite local brands and initiatives. Each and every pencil case has our signature 'Let's Stick Together' design hand-embroidered on and has been created in collaboration with One of Each and Colours of a Kind who are two South Africa based superstars with who we are so grateful to be able to collaborate with on this one of a kind addition to your stationery collection!
Key Features
- Can also be used as a wash bag or makeup bag
- Grey cotton thread used for the hand embroidery
- Cream organic cotton exterior with silky deep grey inner lining
- 20cm (l) x 5cm (w) x 6cm (h)
20cm (l) x 5cm (w) x 6cm (h)
Ships in 24hrs, Returns welcome within 10 days of receiving item
Psssst, you're gonna just love these too…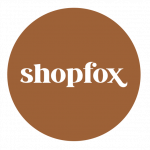 Shopfox
Typically replies in minutes
Shopfox
Hey, it's Lauri from Shopfox!
We'd love to hear if you have any questions or feedback!
1:21